This section is part of the Weapon Mod by BalkondeurAlpha.
Warhammer (Melee Weapon)
Edit
The Warhammer is a 
Melee Weapon
 from the 
Weapon Mod
. It can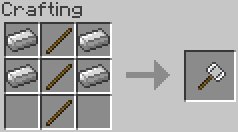 be crafted out of wood, stone, iron, gold, or diamond.
A warhammer to squeeze a slime!
Attack Speed: Slow
Knockback:* Large
Block Damage: Huge, depends on crafting material
| Type of Warhammer | Damage on Impact |
| --- | --- |
| Wooden Warhammer | 4 damage |
| Stone Warhammer | 6 damage |
| Iron Warhammer | 8 damage |
| Golden Warhammer* | 4 damage |
| Diamond Warhammer | 10 damage |
*Knockback is increased on any weapons crafted out of Gold.
Edit
Right-click and hold to charge a super ground smash, hurting surrounding mobs. The explosion power is determined by the materials used to craft the Warhammer. There is a 20 second cooldown between charges.
Weapon Mod

About Weapon Types
Melee
Throwable
Shooting
Items and Ammunition
Miscellaneous
All information on these pages is for the version of this mod found in the Life in the Woods modpack.