This section is part of the Weapon Mod by BalkondeurAlpha.
Throwable Dynamite (Throwing Weapon)
Edit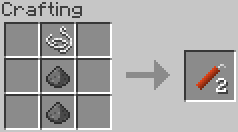 Throwable Dynamite is a Throwable Weapon from the Weapon Mod. It can be crafted using two piles of gunpowder and a piece of string in a vertical line. Each crafting recipe creates 2 Throwable Dynamite.
Not just ordinary TNT!
Explosion Power: Half of a TNT Block
Explosion Radius: 5x5 blocks across and 2 blocks down.
Damage: 10 damage at center of explosion, 3 damage on the edges.
Right-clicking with the mouse will immediately toss the Dynamite, so you will have to arc your shots before right-clicking if you wish to extend the distance of your throw.
Weapon Mod

About Weapon Types
Melee
Throwable
Shooting
Items and Ammunition
Miscellaneous
All information on these pages is for the version of this mod found in the Life in the Woods modpack.