This section is part of the Underground Biomes mod by Grom PE & Exterminator Jeff.
Sedimentary Rocks

Edit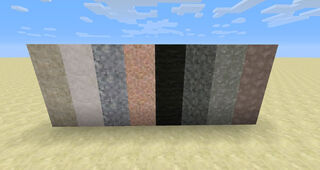 There are 8 different types of sedimentary rock added to Minecraft through the Underground Biomes mod. Each of the sedimentary rocks have a rare chance to drop a fossil, flint, or clay when broken. Crafting with the blocks themselves, however, is currently not possible.
The exception is Lignite, which can be used as fuel in a furnace and is crafted the same way as a Coal Block.
| Type of Rock | Obtained by | Used in Crafting? | Other Uses |
| --- | --- | --- | --- |
| Limestone | Mining (no silktouch required) | Not yet implemented | N/A |
| Chalk | Mining (no silktouch required) | Not yet implemented | N/A |
| Shale | Mining (no silktouch required) | Not yet implemented | N/A |
| Siltstone | Mining (no silktouch required) | Not yet implemented | N/A |
| Lignite | Mining (no silktouch required). Can also be crafted by filling a crafting grid with coal in a 3x3. | Not yet implemented | Can be used as fuel in a furnace. Equivalent to a Coal Block in vanilla Minecraft. |
| Dolomite/Flint | Mining (no silktouch required) | Not yet implemented | N/A |
| Chert | Mining (no silktouch required) | Not yet implemented | N/A |