This section is part of the Underground Biomes mod by Grom PE & Exterminator Jeff.
Metamorphic Rocks

Edit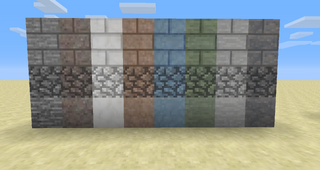 There are 9 different types of metamorphic rock added to Minecraft through the Underground Biomes mod. Each of the metamorphic rocks found deeper underground have a rare chance to drop lapis lazuli or redstone when broken.
Breaking a metamorphic rock with a normal pickaxe will result in cobblestone, which than then be crafted into stone or brick, as well as used in any vanilla Minecraft recipes using cobblestone, stone or brick.
| Type of Rock | When Mined | Silk Touch / Smelted | Used in Crafting? |
| --- | --- | --- | --- |
| Gneiss | Gneiss Cobblestone | Gneiss | Uses vanilla cobble, stone, & brick recipes. |
| Eclogite | Eclogite Cobblestone | Eclogite | Uses vanilla cobble, stone, & brick recipes. |
| Marble | Marble Cobblestone | Marble | Uses vanilla cobble, stone, & brick recipes. |
| Quartzite | Quartzite Cobblestone | Quartzite | Uses vanilla cobble, stone, & brick recipes. |
| Blue Schist | Blue Schist Cobblestone | Blue Schist | Uses vanilla cobble, stone, & brick recipes. |
| Green Schist | Green Schist Cobblestone | Green Schist | Uses vanilla cobble, stone, & brick recipes. |
| Soapstone | Soapstone Cobblestone | Soapstone | Uses vanilla cobble, stone, & brick recipes. |
| Migmatite | Migmatite Cobblestone | Migmatite | Uses vanilla cobble, stone, & brick recipes. |